Agile and Scrum Masterclass
In just 10 days, you'll gain comprehensive knowledge and practical skills to master the Scrum framework. This intensive program is designed to equip you with the tools and techniques needed to excel in Scrum.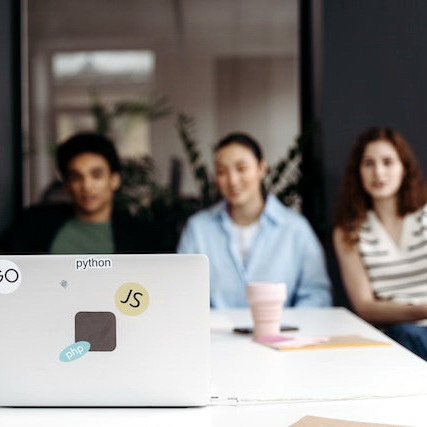 Unlock the true potential of your team with Scrum – the popular and proven Agile project management framework that streamlines your workflow and maximizes your productivity. By breaking down your project into smaller, manageable parts and regularly checking and adjusting your progress, you'll achieve greater success in less time, and with less stress.
Increase feasibility and adaptability,
Reduce risk,
Improve quality,
Enhance customer satisfaction…
For more information about the Scrum framework, including its benefits and drawbacks, please click the link below.
Unlock Scrum Excellence:
Learn Scrum in 10 Days
Join our Agile and Scrum Masterclass. Revolutionizing your project management capabilities in just 10 days.
You will learn about Scrum which is the most commonly used agile framework globally.
By learning Scrum, you will acquire better communication, teamwork, and adaptability skills which will ultimately make you confident to lead any project.
After this Masterclass, you will learn how to manage projects well and satisfy stakeholders using useful tools and techniques.
What do students say about us? Read these testimonials to find out what past students have thought about their experience with us.
Discover your true capabilities and advance your Agile project management abilities RIGHT NOW!
Hi, my name is Dejan Majkic. I'm an experienced Scrum professional and the author of The Agile and Scrum Masterclass.
I've packed a lot into the Agile and Scrum Masterclass because I want to ensure your success in learning Scrum in just 10 days. My goal is to help you create an awesome career while providing the necessary support to guarantee your progress.
And to make it a no-brainer deal for you I'm giving you a 30-day 100% money-back guarantee with your purchase of the Agile and Scrum Masterclass today.
You should experience the skills and knowledge of this program. Otherwise, you don't owe me the red cent. And I will give you all your money back.
Learn Scrum and its advantages through useful tips and practical examples from real life situations.
In only 10 days develop better teamwork and collaboration, improve problem-solving, and gain other valuable skills.
Scrum enables you to work better and faster, while employers acknowledge Scrum certification as proof of your proficiency. Discover the keys to passing Scrum certification on your first attempt by enrolling in the immersive 10-day Agile and Scrum Masterclass.
Allow me to share a brief story illustrating how Scrum assisted the FBI.
You may not enjoy it, but attempting something new may result in discovering a new interest. If others can do it, then so can you. Consider trying to become a Scrum Master or Product Owner to pursue a high-demand job. Give it a chance!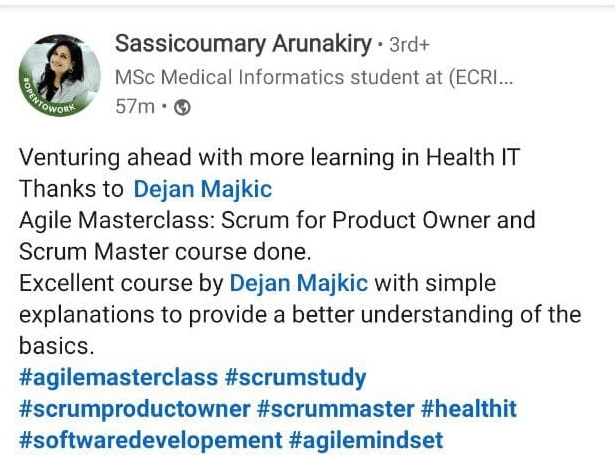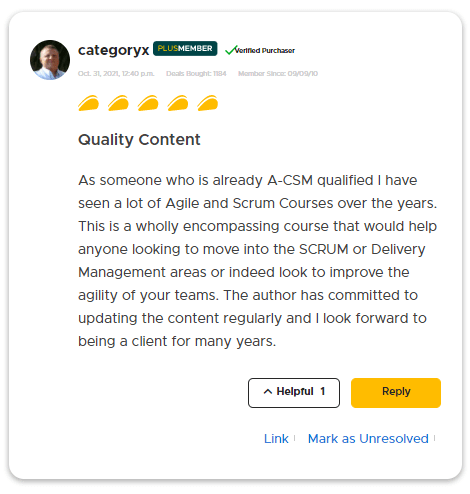 Learn Scrum quickly and gain expert knowledge in just 10 days!
Join over 500 students who have already enrolled in our Agile and Scrum Masterclass. Enroll today to improve your project management skills, enhance your career prospects, and acquire versatile skills applicable to any industry.
The Agile and Scrum Masterclass serves as an ideal guide for individuals who seek to expand their knowledge of Scrum and strive to become accomplished Product Owners or Scrum Masters.
© 2023 All Rights Reserved.