Agile and Scrum Masterclass
Embrace the revolution with Agile and Scrum methodologies. In just 10 days, transform your project management approach. Say goodbye to outdated methodologies and welcome unparalleled success with Agile's power.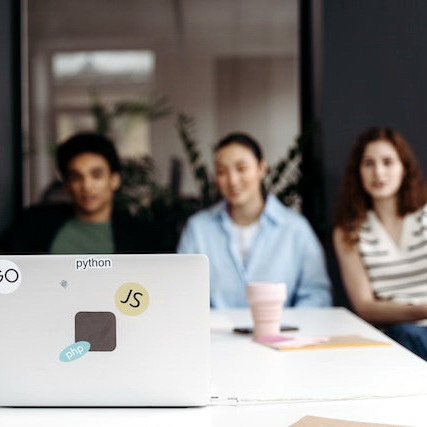 Unleash your team's true potential with Scrum – the acclaimed Agile project management framework that fuels unprecedented workflow efficiency and turbocharges productivity.
Learn Scrum in 10 days and experience the thrill of breaking down projects into manageable parts and achieving remarkable success faster, easier, and with confidence.
Amplify feasibility and adaptability,
Mitigate risks with precision,
Elevate quality to extraordinary levels,
Delight customers like never before…
Discover the unrivaled power of Scrum in a detailed analysis, uncovering its extraordinary benefits and considerations. Maximize your project's potential and seize the competitive edge today. Learn more about the benefits and challenges of Scrum in-depth.
How long does it take to learn Scrum?
Learn Scrum in 10 days through this revolutionary program called the "Agile and Scrum Masterclass."
After this Masterclass, you will learn how to manage projects well and satisfy stakeholders using useful tools and techniques.
What do students say about us? Read these testimonials to find out what past students have thought about their experience with us.
Suman Penematsa
One of the best Scrum Master training courses you can have. I found the training to be very practical and it introduces methods and tools for successfully performing the role of Scrum Master. Absolutely professionat and very likable. Also highly recommended Rarely experienced such an authentic trainer.

Tony Lam
Thank you so much!!! When I do become certified and find a job position, I will let you know how much you changed and impact my life!
José Eduard
I would like to thank Dejan Majkic for this Masterclass, I learned the important guidelines, techniques, tools, and best practices of Scrum testing. I'm looking forward to test my knowledge on my daily routine. And also invite to my network to take this Masterclass, very useful.
Yhoan Ramirez
Be prepared for all risks that may arise and have a contingency plan against them, that is part of successful project management. Never stop learning Risk Management, and Leadership. Thank you Dejan
Ryan McCarthy
Really enjoyed this Masterclass from Dejan Majkic. Looking forward to bringing some of these tips and guidance into my sprint prep/ planning.
Maria Stefanina
Thank you for sharing the knowledge and Appreciated! I really enjoyed your course. It was very well structured and provides great insights.
How can I advance my Agile project management abilities?
You can discover and advance your Agile project management abilities by taking immediate action and leveraging available resources.
Hi, my name is Dejan Majkic. I'm an experienced Scrum professional and the author of The Agile and Scrum Masterclass.
I've packed a lot into the Agile and Scrum Masterclass because I want to ensure your success in learning Scrum in just 10 days. My goal is to help you create an awesome career while providing the necessary support to guarantee your progress.
And to make it a no-brainer deal for you I'm giving you a 30-day 100% money-back guarantee with your purchase of the Agile and Scrum Masterclass today.
You should experience the skills and knowledge of this program. Otherwise, you don't owe me the red cent. And I will give you all your money back.
How can I learn Scrum and understand its advantages?
You can learn Scrum and understand its advantages by utilizing useful tips and practical examples from real-life situations as part of your learning process.
How can I develop better teamwork and collaboration, improve problem-solving, and gain valuable skills in just 10 days?
You can achieve better teamwork and collaboration, improve problem-solving, and gain valuable skills within a span of 10 days through a focused and intensive learning program that emphasizes these areas.
Scrum enables you to work better and faster, while employers acknowledge Scrum certification as proof of your proficiency. Discover the keys to passing Scrum certification on your first attempt by enrolling in the immersive 10-day Agile and Scrum Masterclass.
Can you provide a brief story illustrating how Scrum assisted the FBI?
Scrum assisted the FBI in streamlining its operations and improving its investigative processes, resulting in greater efficiency, enhanced collaboration, and more successful outcomes. Please watch the video…
You may not enjoy it, but attempting something new may result in discovering a new interest. If others can do it, then so can you. Embrace High-Demand Careers – Become a Scrum Master or Product Owner. Give it a chance!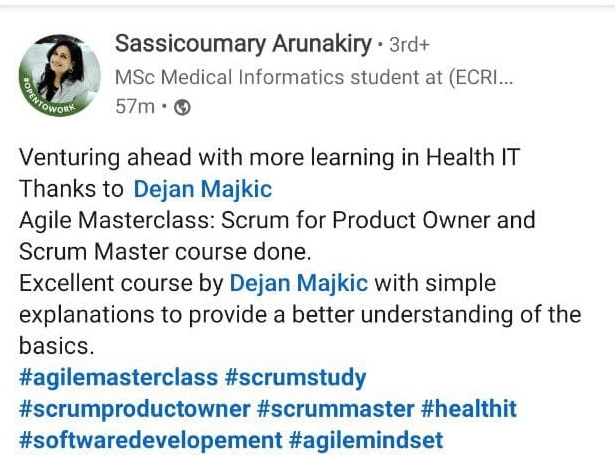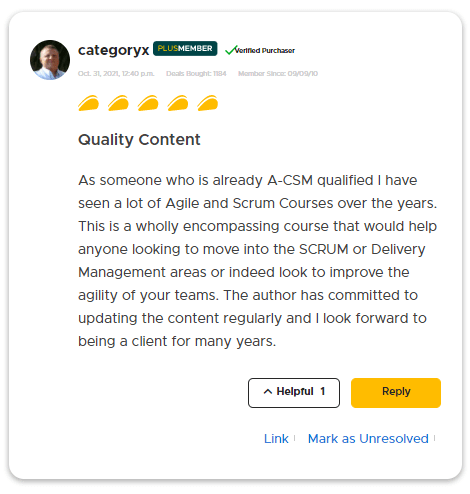 Why should I enroll in the Agile and Scrum Masterclass?
By enrolling in the Agile and Scrum Masterclass, you can develop your Agile project management skills, enhance your career prospects, and acquire versatile expertise applicable to any industry, joining over 500 students who have already benefited from the program.
The Agile and Scrum Masterclass serves as an ideal guide for individuals who seek to expand their knowledge of Scrum and strive to become accomplished Product Owners or Scrum Masters.
The Agile and Scrum Masterclass is your passport to a future where success knows no bounds.
Enroll today and gain access to a wealth of Scrum Masters and Product Owner's knowledge and resources.
Don't let this opportunity slip through your fingers. Seize the moment, embrace Agile, and revolutionize your career!
© 2023 All Rights Reserved.